Service

Our shop has over 100 years combined service knowledge on equipment repair. Our shop has the capabilities to repair both early and late model equipment. Florida Track can take care of your complete undercarriage needs on both bulldozer and excavators. We also carry a lot of the rubber track machine parts, and our shop can help you replace and repair components as needed to get you back to work with your equipment.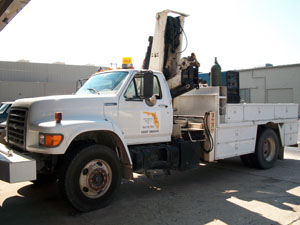 Our shop can take care of your powertrain needs. Whether engine transmission or final drive problems our mechanics are able and willing to bring your machines back up to factory specifications, and get you back to work as quickly as possible. We are also able to troubleshoot your late model CAT electronic problems with CAT ET Diagnostics.

Field service mechanics and service trucks are available to help you with your field service needs. If you require line boring repairs, our shop is able to line bore your worn bosses in our shop and in the field. Florida Track can repair worn buckets and blades, weld skins and base edges, replacing trunnion balls, and line bore bosses, so that your work tools can be up to specifications. Whatever your mechanical needs, our shop is able and willing to tailor your repairs to as little or as complete as you want and need.

We keep a set of 650J undercarriage frames in stock to swap out on your machine on same day repairs to limit your down time.

We have a hose machines and hydraulic fittings in stock to build your 2-wire or 4-wire hydraulic hoses while you wait.

Our mechanics are trained on how to press and repair most recoil springs in house.

If and when your machine breaks a chain in the field, we are able to build a saddle to put your chain back together. Once we build your saddle we can send a field service mechanic to your location to install it.


Complete Undercarriage Rebuild
Custom Made Track Groups
Complete Engine Rebuild
Complete Transmission Rebuild
Complete Blade/Bucket Rebuild
Line Boring
CAT System 1 Conversion
Compactor Wheel Installation
Fabrication
Power Train Service
Field Service
Semi - clutches, cylinder repairs, engine work,-
-brakes, transmission and differential repairs
Recoil Spring Repair
Cylinder Head Repair
Hydraulic Hose Repair
Crane/Dragline Undercarriage Repair
Agricultural Equipment Repair
Equipment Transport up to 70,000 lbs
On Site Equipment Inspection (NO CHARGE)
On Site Undercarriage Wear Evaluation (NO CHARGE)
Plus Much Much More!
---